Archive for the 'appetizer' Category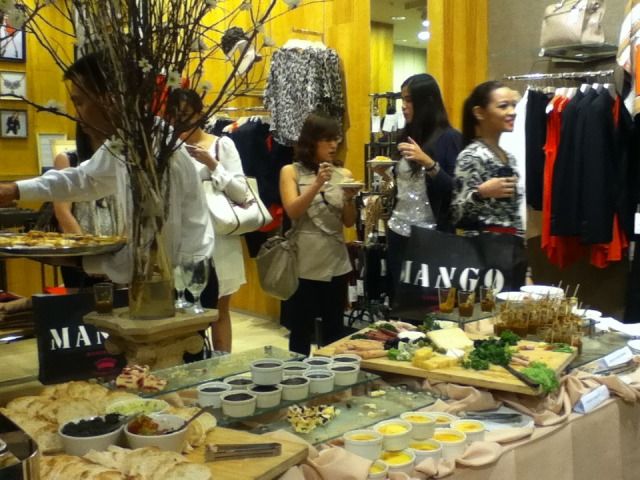 It was such a great privilege for me to attend the branch opening of Mango clothing store at Centrio Ayala Mall a few days ago. Its actually my first time witness such event like this where I was able to meet some socialite people, fashionistas, rich and famous personalities and media partners including us.
Before the ribbon cutting starts, we enjoyed the night by choosing and picking some buffet pica pica foods available at the table such as tofu and adobo flakes, small sized grilled burger, Pizza Bruschetta and Hotdog Furai with Chive Sour Cream Dip and so much more.The bite-size Churittos and dipped in chocolate is also a heavenly delight for me. I really love and enjoy eating pica pica foods plus the cocktail drinks!
Have you heard about a pink salt? They actually call it the Himalayan pink salt which is believed to be the purest form of salt available. It was being used by holistic chefs, spas, health professionals, and individuals for its range of nutritional and therapeutic properties. Some people even used it as a table salt for culinary dishes and baking, but it is purer and higher in mineral content.
The himalayan bath salts has been proven to stimulate circulation, relaxing the body, lower blood pressure, sooth sore muscles and remove toxins from the body. Its one of the ingredients added for bath salt recipes, body scrubs, aromatherapy, homemade soap and other types of culinary and spa applications.  I haven't seen this kind of salt yet here in our local beauty shop but I'm interested to try using this pink salt one of these days.
Yup I was craving for Ginamos the other day so I bought at the wet market and stir fry it with tomatoes. Ginamos as what we call it in Visayan is actually a salted small fish that has been kept for several days. I love eating it with rice, cooked banana (saging saba) and green mango.
Ginamos or Bagoong is made by salting and fermenting the bonnet mouth fish.  Bagoong is however an essential ingredient in many curries and sauces. It's unique and distinct odor is also used as a condiment or as a dipping sauce.
I love finger foods not only that its easy to eat since you don't need any utensils for eating it but its also easy to prepare that is why it is great for parties and celebrations.Finger foods can also act as an excellent appetizers and they are delicious to eat.
Here are some finger foods prepared by my Mom:

belegte Brötli
Stuffed Eggs
When it comes to how to make finger foods, all you need is a little bit of creativity, a good sense of taste, and the willingness to experiment.