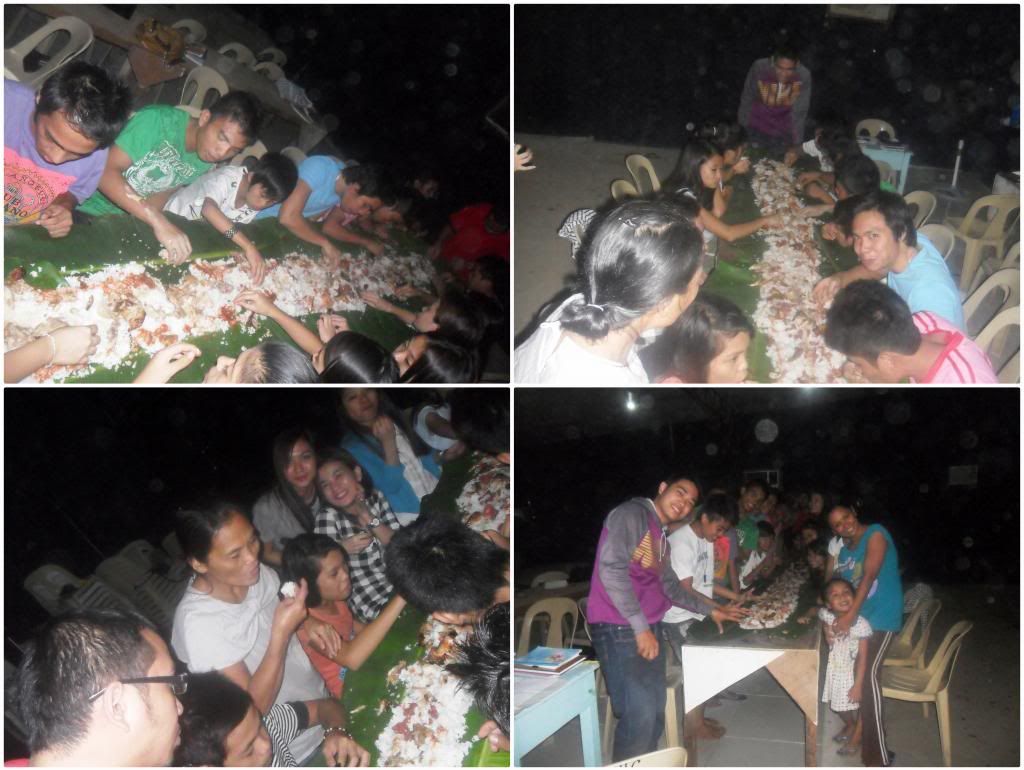 Have you tried a Budol eating fight? Its actually a thrilling way of eating with family and friends. We had our budol eating a week ago right after our church meeting with the leaders. Now, if you're wondering what Budol Fight is, it is a term used in eating using your bare hands and serving the food that is scattered on the table with banana leaves that usually serve as the plate. It is believed that eating with bare hands while standing beside the table together with friends or family will make this food trip even exciting.
This type of serving or eating can be done in any occasions or even without special occasions. Often, groups would decide eat together, after a short activity or just a simple food trip with friends. Budol Fight is a way of eating foods that promotes bonding and fun. Anybody in the group can get food anywhere as long as it is still on the table.
The preferred foods to serve are usually the ones that doesn't have a soup such us fried or grilled chicken or pork, rice and many others. What makes budol fight it even more fun is that it is often served as if there is a limited time and one must eat in a hurry as the others might get the remaining food in the middle. Plus you are right in front of the others smiling and eating as if it is just playing.
Opera is one of those arts that people tend to either love or hate, right? Some people may call it stuffy and old-fashioned, a place where rich people come watch and listen to the singers as they perform in dramatics shown to ancient music.I actually never seen an opera in person but I find it interesting to watch with. I want to see its high musical drama with its grand sets.
Those great emotions and how it feels to see one live on stage. Perhaps it is a good way to expose myself to the wide range of cultural forms and media. The live music with cool double bass, live theater and live dance are all out there to be experienced and enjoyed. Seeing the artists sing and play is interesting in itself, and the impact of live music heard in an environment is greater than any recording might have.
image is not mine
It has been an American tradition where they celebrate thanksgiving with a sumptuous and lavish meal where Turkey has been the centerpiece. I actually haven't eaten a turkey yet since chicken is more popular here in our country. According to my sister in law who lives in the U.S., turkey is one of the healthiest meats on the market today and it is tastier and healthier than chicken. The white meat of the turkey is juicier and has more taste than the white meat of a chicken.
American families gather every year to enjoy this holiday tradition where the center of which is of course the Thanksgiving Turkey.  Roasted turkey is always in demand as far as Thanksgiving dinner is concerned. Deep frying, smoking and even grilling methods are gaining popularity too.

Today, there are different versions of turkey dishes and recipes. New preparations Thanksgiving recipes are coming up every day which will take just 20 minutes to make a delicious Thanksgiving turkey. Well, no matter what style of cooking it may be, as long as it a great time for families to create traditions and memories that will last a lifetime.
The young people from our church made a surprise Mañanita serenade on the eve of my hubby's birthday that happened yesterday. They came to our house at 4 am, my hubby was still wide awake at that time and he was surprise when they sang some of his favorite songs and of course the jolly birthday song.
Mañanita, by definition is a serenade done on the eve of someone's birthday while Las Mañanitas is a traditional Mexican song that is sung on birthdays and other important holidays. It is often sung as an early morning serenade to wake up a loved one. At birthday parties it is sung before the cake is cut. We are not familiar with the Las Mañanitas song that's why we just prefer to sing my hubby's favorite songs.
My hubby looks like he's removing some morning star from his eyes…hahaha! but he was actually touch and he's happy for what they did. I think all of us will be happy if someone's serenading you specially on your birthday since you  feel  that you are being loved and you are special to them.
We have been practicing this Mañanita serenade a few months ago every time when somebody celebrates his or her birthday. We usually bring hot breads such as pandesal or monay and also bring some 3 in one coffee so all of us could share and enjoy the happiness together with the birthday celebrant.